Mexico: Cellphone clash of the titans
Emilio Azcarraga, the head of Mexico's largest broadcaster Televisa, may wrestle control of Nextel from Carlos Slim, one of the richest men in the world. But cellphone users could benefit from the competition.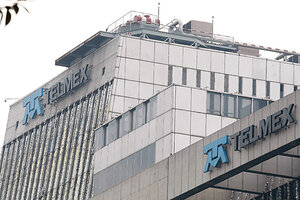 Daniel Aguilar/Reuters/File
Mexicans like to laugh, or lament, that hardly a day goes by that they aren't in touch with the fortune of Carlos Slim – whether they pick up the phone or sit down for a meal at a chain restaurant.
Now, a messy battle is gearing up that threatens the mogul's dominance of the cellphone market in Mexico.
Emilio Azcarraga, the head of the nation's largest broadcaster Televisa, could begin to wrestle control from Mr. Slim, one of the richest men in the world, with a deal this week to purchase 30 percent of cell carrier Nextel in Mexico.
But this is not David vs. Goliath. This is the clash of the titans, as two of Mexico's most powerful men, once business partners, seek to maintain power as Mexico's telecommunications landscape undergoes rapid change.
"It's obviously the case that they are the guys and the corporations with the financial muscle to undertake this battle," says Ernesto Piedras, the director general of the consultancy firm the Competitive Intelligence Unit in Mexico City. "They are the same old names that we've had in the Mexican market. [But] it's a matter of weight. They are playing in the same arena, in the same competition division."
Slim, who has dominated the telephone industry since he bought the state-run telephone company Telmex in 1990 and later spun it off into America Movil, is estimated as one of the richest men in the world, according to Forbes magazine. Today in Mexico Telmex controls about 80 percent of fixed lines, while America Movil services over 70 percent of the nation's cellphone users.
---
Follow Stories Like This
Get the Monitor stories you care about delivered to your inbox.