Afghanistan war: Marjah offensive is trial run for Kandahar push
The Marjah offensive, say US and Afghan officials, is a trial run for a major push into the city of Kandahar this summer. It could be the pivotal battle of the Afghanistan war against the Taliban.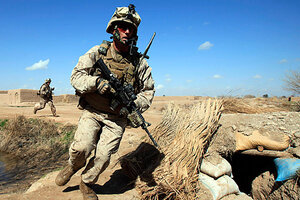 Goran Tomasevic/Reuters
The current U.S.-led military operation – the Marjah offensive in Helmand province – is a trial run for what could be the decisive clash with the Taliban in Afghanistan this summer in the area that is its spiritual home – Kandahar.
Officials at the U.S.-led International Security Assistance Force (ISAF) say that the focus of the coalition will shift from Helmand to Kandahar — the big prize for both the Taliban and the coalition. Kandahar city is home to around 1 million people, while Marjah, the target of the massive ongoing offensive in Helmand, is an obscure dusty town of 85,000 inhabitants that had turned into a Taliban stronghold.
A senior ISAF official, who didn't want to be identified because of the sensitivity of the issue, said: "This moves to Kandahar. That's the next main objective."
Kandahar is Afghanistan's political powerhouse. It was the seat of the former Afghan royal family and the base for Taliban founder Mullah Omar during his movement's reign from the mid-'90s to 2001. President Hamid Karzai's family also comes from Kandahar, where his controversial brother Ahmad Wali Karzai heads the provincial council.
The Taliban's top priority is to take Kandahar, and the ISAF has been slow to counter it up to now, fielding a severely under-manned presence that many experts believe was a strategic mistake.
---