Iraqi elections: Why one candidate says he faces a US death threat
Abu Mahdi al Mohandas is one of more than 6,000 candidates on the ballot in the Iraqi elections on March 7. But the Shiite politician, now hiding in Iran, says the US considers him a terrorist and a weapons supplier to Iraq militia groups.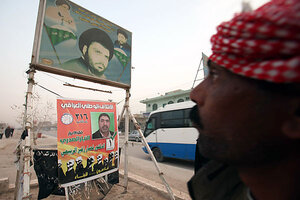 Alaa al-Marjani/AP
Abu Mahdi al Mohandas is one of more than 6,000 candidates who are running in the Iraqi parliamentary elections next month, but he's probably the only contender who won't set foot on the campaign trail for fear of a U.S. assassination attempt.
"I was told, officially, by the speaker of parliament and a high-ranking Iraqi official that it's preferable I don't show up before the election because they couldn't assure I would be protected," Mohandas told McClatchy in a rare, two-hour telephone interview Wednesday from Tehran, Iran. "Since 2005, the Americans have conveyed a message through an Iraqi mediator that they'll kidnap or assassinate me."
Campaign posters around Baghdad depict Mohandas, 56, as a white-bearded elder statesman who belongs to the main Shiite Muslim ticket that's challenging Prime Minister Nouri al Maliki's bloc. Mohandas' name also appears on a more dubious list: Last July, the U.S. Treasury Department sanctioned Mohandas, accusing him of helping to train Shiite militia members to attack U.S. forces in Iraq and of moving weapons from Iran into Iraq for that purpose.
---