Chile earthquake: A political storm brews
Saturday's 8.8 Chile earthquake came days before next week's landmark transition from outgoing President Michelle Bachelet to conservative President-elect Sebastian Piñera. Are the two playing politics with quake relief?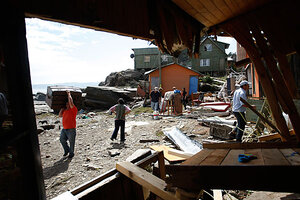 Fernando Vergara/AP
Mexico City; and Santiago, Chile
Chile's political transition next week – in which conservative President-elect Sebastian Piñera will take office, ending 20 years of rule by the Concertacion leftist alliance – would have been a landmark event even without Saturday's magnitude-8.8 Chile earthquake.
But the massive temblor that rocked this nation 13 days before President Michelle Bachelet leaves office has added more political strife as the transition nears.
By and large, Chile has come together in the midst of its worst natural disaster in decades – a relief to residents who are seeking a unified voice as they begin to rebuild their lives. But the jockeying for power between Ms. Bachelet and Mr. Piñera, who criticized the lack of security in the immediate aftermath of the quake, hints at tougher political times ahead.
IN PICTURES: Images from the magnitude-8.8 earthquake in Chile
"Bachelet has 11 more days in government. It is logical that from the beginning of the earthquake, she should have asked Piñera to be a part of [recovery efforts] for continuity," says Oscar Godoy, a political science professor at the Pontificia Universidad Católica de Chile. "In her first public appearance, when so many people hoped that she said, 'you can count on the [incoming] president,' she did not."
Piñera frozen out at the beginning?
---