Iraq election: How will voters respond to suicide bombings?
Just days ahead of Iraq's election, three powerful suicide bombings killed at least 33 people Wednesday in the Diyala province northeast of Baghdad.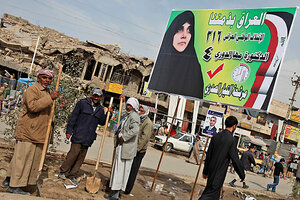 Karim Kadim/AP
Three powerful suicide bombings killed at least 33 people and wounded more than 50 Wednesday in the restive Diyala province northeast of Baghdad, authorities said. Most of those killed and wounded were Iraqi police officers charged with securing the province's capital city ahead of national elections Sunday in Iraq.
The blasts occurred in quick succession, targeting police buildings in Baqouba, the capital of Diyala, where local authorities are still battling Sunni Muslim extremists. The insurgents use the area's orchards and farmlands to hide out since U.S. and Iraqi offensives drove them from Baghdad and the west.
The attacks were the deadliest so far in the tense period ahead of Iraq's parliamentary elections. Security forces imposed a full curfew on the city, clearing the streets even of pedestrians until further notice.
(Read more about rising sectarian tensions between Iraq's Sunnis and Shiites here.)
"The timing is a message to prevent people from participating in elections, because it happened just a few days before the general voting and less than 24 hours before the special vote for security forces," said Maj. Ghalib Atiyah al Jubouri, a spokesman for Diyala's police. "We feel people will challenge this message and reject it. … I'm sure they'll turn out for the elections in force."
Jubouri said the first bomber drove a car packed with explosives and detonated it outside the station of a police quick-reaction force at about 9 a.m. Five minutes later, Jubouri said, a second car driven by a suicide bomber exploded outside a police personnel office.
---