As Jacob Zuma visits UK, South Africans seek a little respect
South African media brim with scandalous stories about President Jacob Zuma. But it's another matter when UK media follow suit.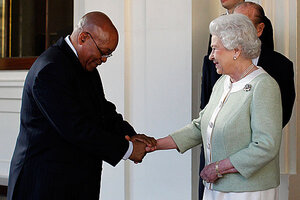 Matt Dunham/AP
I'm in a taxi on the way home from Oliver Tambo Airport in glorious warm and sunny Johannesburg, and the talk-radio presenter is gauging public opinion on how people feel about the British press' rather unfriendly reception of South African President Jacob Zuma, who is wrapping up a three-day trip to Britain. Apparently they have called him a "buffoon."
The callers' opinions are mixed. Many say they are offended, even if they didn't vote for Mr. Zuma, to see their president treated with disrespect. Others say, "actually, he is a buffoon."
Welcome back to sweet home South Africa. Never have the bitter coffee of complaints, self-doubt, and historical baggage and the frothy milk of hope, ambition, and entitlement been so intriguingly combined as here.
Why is it that local newspapers carry scandalous stories, daily, about Mr. Zuma and his coterie, but when British papers do it on his London tour, it's a matter of shame?
---