Korea OLEV concept vehicle sees the future, and it's magnets
At Seoul Grand Park this week, engineers showed off Korea's OLEV concept vehicle that runs on power conveyed by magnets from underground lines. Many observers see 'potential,' but it's not an easy sell.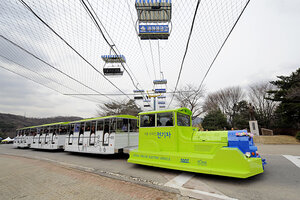 Jung Yeon-Je/AFP
There once was a time when horseless carriages were jeered on city streets. Suh Nam-pyo, president of the Korea Advanced Institute of Science and Technology (KAIST), invokes that image as he introduces another technological breakthrough: a motor vehicle that consumes no fuel, gets electrical charges while in motion without plugging in -- and then goes "anywhere."
"Many people said it couldn't be done," says Mr. Suh, for 35 years a professor at the Massachusetts Institute of Technology in Cambridge. "In spite of many negative comments, we have shown it is a viable concept."
Suh introduced OLEV, the "on-line electric vehicle," on a circular drive within the spacious wooded confines of Seoul Grand Park, a zoo and amusement area on the southern fringe of the capital. The technology powers a trolley train of three or four open cars, a converted kiddy ride. Without having to travel on a fixed route, it runs without stopping. A bar code on a computer screen on the front seats lets passengers know when an underground cable, connected to an ordinary electric grid, is recharging the battery via powerful magnets.
The magnetic field is so strong that the train's battery takes the charge without the slightest sign of movement. No part of the train other than the wheels comes closer than about 7 inches to the ground – a difficult technological achievement considering that the power is passing through a layer of air.
---