Afghanistan war: How Taliban tactics are evolving
Often portrayed as mindless fanatics, the sophistication of Taliban military tactics in the Afghanistan war have impressed US military officials.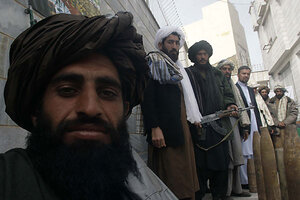 Reza Shirmohammadi/AP
Although they're often portrayed as mindless fanatics, the militant Islamists' "life experience" from their years in the wilderness, their study of American military tactics and their analysis of the Karzai government's shortcomings have helped reverse their fortunes, U.S. intelligence experts say.
With President Barack Obama sending at least 30,000 additional American troops to knock the Taliban off-balance and a U.S.-led offensive in Helmand province, a better understanding of today's Taliban is central to the effort to defeat them and to begin withdrawing some American troops from Afghanistan in summer 2011.
While much is made of the recent arrests of Taliban leaders in Pakistan and the deaths of others in U.S. unmanned drone attacks, the group appears to be a movement in transition, with greater sophistication along with limited central control and considerable autonomy for its local commanders in Afghanistan.
---