After papal rebuke, Ireland takes stunned stock of battered church, economy, and nation
Many in Ireland are stunned that the once high-flying 'Celtic Tiger' is now just another battered economy – and by fresh revelations of coverups of sexual abuse of children in the Roman Catholic church as Pope Benedict XVI apologized directly to Irish abuse victims.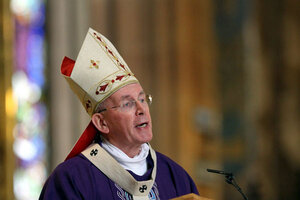 Peter Morrison/AP
Having enjoyed the celebrations of St. Patrick's Day, many Irish people at home and abroad are now staring with disbelief at the state of their nation.
"I can't think of anything that makes me sit up and pay attention," says Gerard Casey, professor of philosophy at University College Dublin. "In terms of our political leaders, bankers, or even our self-knowledge, there's nothing good to say. I see no sign of what people like to call 'green shoots.' "
How different things were just three short years ago. The country was riding high: business was booming and Ireland was one of the richest countries in the EU. The peace process in Northern Ireland was, while far from perfect, at least pointing toward a settled future.
Then economic crisis hit in 2007, just after the Irish general election brought a government to power promising a long boom. Instead, the country got a long bust and since then things have only been getting worse.
Unemployment has hit 12.6 percent, with 436,956 jobless, while the country's $30 billion deficit represents 12.5 percent of gross domestic product – trailed only by Greece among the 16 countries in the eurozone.
---