Afghan warlord Hekmatyar talks peace, but brings little to table
Afghan warlord Hekmatyar has sent delegates to Kabul for more preliminary peace talks. But his Hizb-e-Islami group lacks teeth on the battlefield and is unlikely to sway more powerful insurgent factions, the Taliban and the Haqqani network.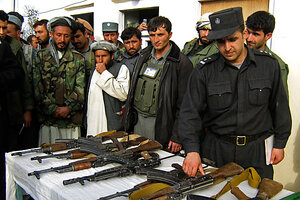 AP
Afghan President Hamid Karzai is holding peace talks with a top envoy from one of the three main insurgent groups, but analysts caution that any deal may not dramatically change the course of the war.
The group, Hizb-e-Islami, has made more overtures toward reconciling with the Afghan government than its allies, the Taliban and the Haqqani network, have. It has held occasional meetings with the Kabul government for at least the past few months.
But Hizb-e-Islami, whose forces are focused in northeastern Afghanistan, has also become the least active of the three on the battlefield. And the group's leader, Gulbuddin Hekmatyar, has been fighting more for power than ideological reasons. These factors blunt the persuasion value of any peace settlement with Hizb-e-Islami on the other two factions fighting the Afghan government, the United States, and their allies.
"I don't think a peace deal would make a difference either on the insurgency or on peace in different areas of Afghanistan," says Waliullah Rahmani, head of the Kabul Center for Strategic Studies. "It's the Taliban who are the main drivers of insurgency in Afghanistan and they have some specific preconditions, and it is hard to contact them in a manner that the government is approaching Hizb-e-Islami."
---