Red shirt protesters, Thai PM cling to hard lines despite talks
During talks Sunday, Thai Prime Minister Abhisit rejected red-shirt protesters' demand to step down and call elections. They resumed talks Monday as street protests persist and a few bombs heightened tension but did not cause casualties.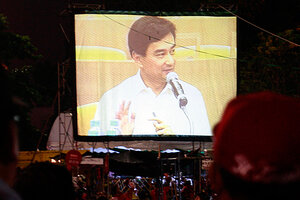 Apichart Weerawong/AP
Antigovernment protest leaders resumed peace talks Monday evening with Thai Prime Minister Abhisit Vejjajiva, one day after a televised first meeting between the two sides.
But the second round of televised talks ended in a stalemate after more than two hours of parried exchanges over a timetable for holding new elections, with Mr. Abhisit saying no sooner than year-end and his opponents pressing for a much shorter timeframe. Abhisit said talks could resume Thursday.
Abhisit's decision to sit with his red-shirted opponents, who have rallied for two weeks in the capital, came after edgy weekend standoffs between protesters and soldiers that raised the stakes on negotiations. Security forces are also on alert after a string of unexplained (and mostly victimless) bombings of military and government targets.
IN PICTURES: Top 10 strange protests
But the two political camps remain apart on when and how to hold fresh elections, a key demand of the protesters. Abhisit, who took power 15 months ago after a court dissolved three ruling political parties, has resisted calls for a snap ballot.
He has until the end of 2011 to call elections, and has said he is ready to do so after long-delayed constitutional amendments are completed. Opponents say any changes can wait until after the vote.
Possible compromise
Any compromise must balance between the mounting public pressure to hold elections and resistance by Abhisit's government and its military backers to a potentially unfavorable vote. One way forward could be a delayed election timetable that gives red-shirt leaders a reason to end their rally with a promise to return if the government doesn't deliver.
---