India, China set up hotline to ease border dispute
India, China ended four days of high-level talks in Beijing on Thursday with an agreement to set up a hotline between prime ministers, to better avoid flare-ups over a longstanding border dispute.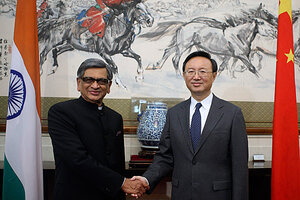 China Daily/Reuters
Only months after reported border incursions sparked anger across the Himalayas, India and China sought to strengthen diplomatic ties during "cordial" four-day talks in Beijing which ended Thursday.
Perhaps the most constructive outcome of the meeting – the highest-level visit from India since Indian elections a year ago – was the agreement to set up a hot line between their prime ministers. This would allow them to connect more easily and reduce the likelihood of flare-ups over long-running disputes.
"These have been cordial, useful, constructive, and wide-ranging discussions," India's foreign secretary, Nirupama Rao, told reporters at a press conference in Beijing Wednesday. "The agreement to establish a hot line is an important confidence-building measure and it opens up a direct channel of communication between the two leaders."
But in a reminder of lingering distrust, the talks came amid a new report claiming that a Chinese cyberspying group stole documents from the Indian Defense Ministry and e-mails from the office of the Dalai Lama, who is considered an enemy by China and lives in exile in India.
The two sides did not discuss the report, according to India, but are thought to have discussed a range of other topics, from China's involvement in Pakistan to currency exchange rates and passport rules with Chinese officials.
 
---