How much damage did the Shen Neng 1 do the Great Barrier Reef?
Australian arrested two Chinese sailors over the grounding of the Shen Neng 1 coal carrier on the Great Barrier Reef, and Australian investigators are looking into the extent of the damage when the ship was grounded while taking an illegal shortcut through the protected ecosystem.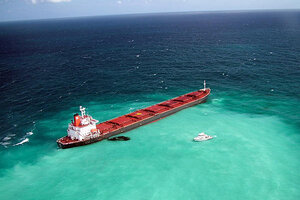 Queensland Government/HO/AFP/Newscom
Australian police arrested two men on Wednesday in connection with the grounding of a Chinese ship on the Great Barrier Reef two weeks ago, as authorities sought to determine the full extent of the damage.
Two Chinese men were charged as the master and chief officer on watch when the Shen Neng 1 coal carrier ran into the Douglas Shoal on April 3.
IN PICTURES: Disaster averted at the Great Barrier Reef
The former is charged with liability for a vessel causing damage in a marine park and faces a maximum fine of $55,000. The latter, charged with being the person in charge of a vessel when it caused damage to a marine park, faces up to $220,000 in fines and/or three years in jail. Both men, who were not identified, will appear in court on Thursday.
A statement on their arrest said that "the Shen Neng 1 failed to turn at a waypoint required by the intended course of the ship."
The ship ran aground on April 3 and drifted along the Great Barrier Reef for more than a week, leaking 2 to 4 tons of oil, shedding dangerous anti-fouling paint, and cutting a two-mile gash into the coral. This week authorities pumped away its remaining 975 tons of oil and towed the ship from the reef.
---