Thailand reds shirts, yellow shirts duel over victim compensation
Thailand's political turmoil pits anti-government red shirts against the yellow shirts, who back the current regime. Now the government and the opposition are vying to compensate the victims of the political violence.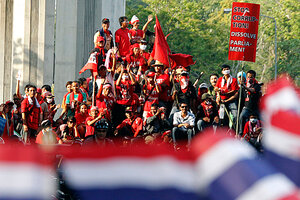 Eric Gaillard/Reuters
The pickup truck pulled up at the Buddhist temple and offloaded a wooden coffin. Inside was the body of Vasan Putong, who died on April 10 of a gunshot wound during a night of clashes in Bangkok between security forces and anti-government protesters that left 25 dead.

The victim's mother Charoen Pongton sat at an outdoor table, her eyes red and her voice reduced to a husk. By her side was a framed photo of Mr. Vasan, a self-employed tailor, standing in a crowd of people dressed in the red shirts of the Thailand protest movement, which he followed until his death.
The red shirt protestor say that the ouster of former Prime Minister Thaksin Shinawatra in 2006 was illegal and want current Prime Minister Abhisit Vejjajiva removed from office. Many of the red shirts are poor, rural Thais, and have tied up Thailand's capital with anti-government protests for a month now. Opposing them are the yellow shirts, a collection of royalists, businessmen, and the urban middle class.
---