Afghanistan war: US night raid sparks protest over civilian deaths
A night raid by US troops, which left an armed Afghan dead, sparked a street protest Thursday. In the Afghanistan war, Gen. Stanley McChrystal has issued orders to limit night raids in an attempt to reduce civilian deaths in the pursuit of Taliban fighters.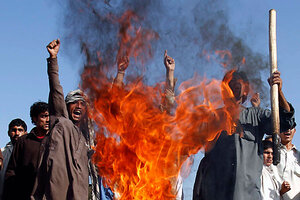 Rahmat Gul/AP
Irate demonstrators burned tires and blocked traffic in eastern Afghanistan on Thursday after U.S.-led forces killed an armed relative of an Afghan lawmaker during a night raid on her home, according to military and Afghan officials.
The confrontation was another setback for the American-led military coalition in Afghanistan, which has declared an aim of reducing civilian deaths and winning support from skeptical Afghans as it prepares for a prolonged summer offensive meant to hobble the Taliban.
U.S. Army Gen. Stanley McChrystal, the head of coalition forces in Afghanistan, has issued a series of orders meant to curtail civilian deaths, which alienate the public and provide fodder for insurgents.
McChrystal recently put new constraints on controversial night raids, requiring Afghan forces to play an integral role and to take the lead when homes are entered.
The American military said Afghan soldiers took part in Wednesday night's deadly search, but the Afghan family that was caught up in the raid questioned that contention.
"I didn't see any Afghan forces," said Shah Fasial Sidiqi, the younger brother of Afghan lawmaker Safiya Sidiqi and one of those whom U.S. forces held for several hours during the raid.
Demonstrators took to the streets in Nangarhar province Thursday as Safiya Sidiqi denounced the U.S. for the raid that killed one of her relatives.
---