North Korea's Kim Jong-il visits China with hat in hand, and a threat
North Korea's need for aid may have prompted Kim Jong-il's visit to China. But the isolated nation has leverage over its powerful ally: instability next door if China says no.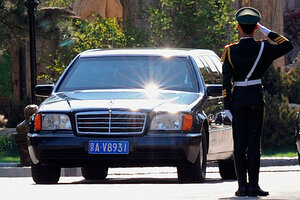 Kyodo/Reuters
As the elusive North Korean leader Kim Jong-il continued his mysterious visit to China Thursday, and as Chinese officials continued to refuse to confirm his presence, scholars here cautioned against expecting Beijing to exert decisive influence over its rogue ally's nuclear ambitions.
Mr. Kim's desperate need for diplomatic and economic aid from China to prop up his regime, these academics say, is matched only by China's fear of the consequences should its wayward neighbor descend into chaos.
"Kim knows that we don't like him but that we need him," suggests Cai Jian, deputy head of the Center for Korean Studies at Fudan University in Shanghai. "So he kidnaps China and blackmails us."
The North Korean leader, traveling in a heavily guarded motorcade on streets cleared of other vehicles, was reportedly meeting Chinese Prime Minister Wen Jiabao Thursday, after a reported dinner with President Hu Jintao Wednesday night.
Asked about Kim's presence, a Foreign Ministry spokeswoman would say only that "if the leader of the Democratic People's Republic of Korea comes to China, the relevant information will be released in due course."
Desperate for aid, and stability
---