Iraq foreign ministry reopens as symbol of defying terrorists
Iraq reopened a rebuilt foreign ministry building in Baghdad Wednesday, just nine months after a major truck bombing. 'The best answer to the terrorists ... is to rise from the ashes again,' said Iraq's Foreign Minister Hoshyar Zebari.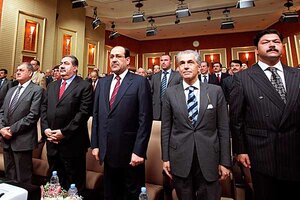 Iraqi Government/Reuters
Prime Minister Nouri al-Maliki officially reopened Iraq's bombed foreign ministry on Wednesday in what foreign and Iraqi diplomats said was proof that the country would not be defeated by truck bombs or terrorists.
As Mr. Maliki cut a red ribbon at the entrance, 42 white doves were released in the air – one for each of the ministry staff killed when a truck packed with two tons of explosives collapsed part of the building in August 2009. More than 560 others were wounded in the attack - the first in a wave of bombings targeting government ministries.
"The best answer to the terrorists to the insurgents, is to rise from the ashes again – that is the symbolism," said Foreign Minister Hoshyar Zebari, speaking after a ceremony in which Iraq's symphony orchestra played for diplomats, government ministers, and ministry officials.
The building, which sustained extensive damage, was repaired almost entirely with Iraqi expertise and labor in a record nine months. Ministry engineers and workers started repairing the damage as soon as the wounded were evacuated. Mr. Zebari himself held a press conference in the ruined building the day after the bombing to show they were still there.
"This ministry has not stopped working even for one day," Zebari told the dignitaries assembled in a renovated hall glowing with gold-colored sconces and flocked wallpaper.
"I don't think anyone would have expected – certainly not the terrorists, that within nine months you would have this thing back on its feet," US Ambassador Chris Hill told the Monitor. "It does speak to the real determination of the Iraqi people…there is a spirit that people who haven't lived here can't really understand."
Amid the pride that the building had been reconstructed in record time, there was a pragmatism that the country is far from safe.
---