Why Peru's police need Joran van der Sloot to reenact killing
Joran van der Sloot is scheduled to reenact his murder of a university student today. He confessed on Monday, but the reenactment of the killing could be crucial to the charges he'll face and how much time he'll spend in prison.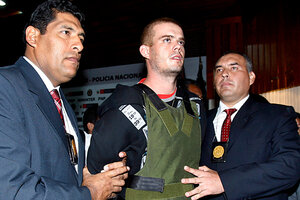 Karel Navarro/AP
Joran van der Sloot, a Dutch national who has confessed to killing a university student here, is scheduled to reenact today the events that led to the murder.
Peru's investigative police will lead Mr. van der Sloot to the casino where he met Stephany Flores and then to the Hotel Tac, where she was killed on May 30.
According to police sources, van der Sloot told investigating officers that he had gone out to get coffee for himself and Ms. Flores Ramirez early on May 30. When he returned, he found her using his laptop computer. He reportedly said that she was looking at information about the 2005 disappearance of Alabama teen Natalee Holloway in Aruba and recognized that he had been accused of murdering Ms. Holloway.
That's when van der Sloot flew off the handle and beat Flores Ramirez to death, according to police reports of his confession.
"The girl intruded into my private life," he told investigators, according to Peru's La Republica newspaper. "She had no right. I grabbed her by the neck and I hit her."
---