Eyeing world opinion, Israel agrees to cooperate on UN Gaza flotilla inquiry
Israel's surprise announcement that it will cooperate with a United Nations investigation into the deadly May 31 Gaza flotilla raid signals the nation's assessment that it cannot keep alienating allies.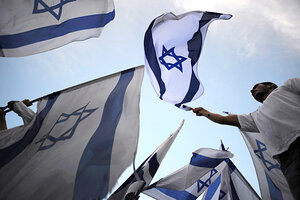 Amir Cohen/Reuters/File
Israel announced Monday that it would cooperate with a United Nations investigation into the fatal Israeli raid on a Gaza-bound flotilla May 31. The decision marks the first time Israel – which routinely criticizes the UN as biased against the Jewish state – has participated in a UN inquiry into the actions of its defense forces.
The move, an about-face after rebutting intense international pressure for two months, signals Israel's assessment that it cannot protect itself if it keeps alienating key allies, say Middle East security experts.
"There is concern in Israel right now that the country has … not been isolated this way since perhaps after Lebanon war in the 1980s. Our relations even with our friends have taken a hit, including the [European Union]," says Meir Javedanfar, a Middle East analyst based in Tel Aviv, adding that Israel is aiming to improve one relationship in particular. "The address on [this announcement] has one recipient, and that's Turkey."
---
Follow Stories Like This
Get the Monitor stories you care about delivered to your inbox.