Afghan election: Taliban not the only culprits of campaign violence
Ahead of Saturday's Afghanistan election, the Taliban has been blamed for most of the violence directed at candidates. However, some of it stems from intercandidate rivalries.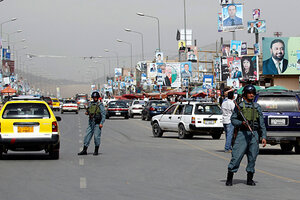 Fayaz Kabli/Reuters
Daud Niazi, a candidate in Afghanistan's parliamentary elections on Saturday, was returning from a campaign event in his native Laghman Province when a group of gunmen suddenly appeared by the roadside. They forced his campaign caravan to a halt, robbed the passengers, and then ordered the vehicles to get moving.
As the convoy pulled away, the gunmen opened fire, shattering windshields, killing Mr. Niazi's cousin, and leaving others wounded. The incident was the latest in a series of attacks against candidates. Many of the attacks are attributed to the Taliban.
But it wasn't insurgents that were behind this grisly attack, it was a rival candidate, according to government officials. Afghanistan's contentious campaign season, which came to a close this week ahead of Saturday's polls, was marked as much by intercandidate violence and complex rivalries as it was by Taliban intimidation.
IN PICTURES: Afghanistan election
"There are some candidates that have ties to militias or warlords, who use guns to try to influence the elections," says Hassan Haqiyar, an Afghan political analyst and author. "If you don't have guns or money, it is hard to compete."
---