Temple Mount riot shows tough balancing act for Mahmoud Abbas
The Temple Mount riot in Jerusalem erupted after a Palestinian was killed by an Israeli security guard. Rising tensions are a challenge for Palestinian Authority President Mahmoud Abbas.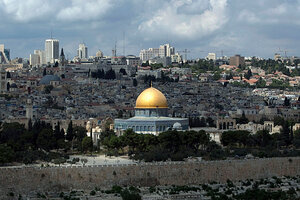 Darren Whiteside/Reuters
Palestinian Authority President Mahmoud Abbas hinted Tuesday night that he may stick with peace talks even if Israel doesn't extend a settlement freeze, softening a precondition he had insisted on until then.
But an outbreak of violence around Jerusalem's Temple Mount today suggests that Palestinian anger over an expanding Jewish presence may be reaching a boiling point. Such a disconnect between Mr. Abbas and average Palestinians could threaten or even end the talks – as well as Abbas's political career.
"I cannot say I will leave the negotiations, but it's very difficult for me to resume talks if [Israeli] Prime Minister [Benjamin] Netanyahu declares that he will continue his activity in the West Bank and Jerusalem," he was quoted as saying at a dinner for American Jewish leaders in New York.
Violence in Silwan spreads to Old City
The violence began in the East Jerusalem neighborhood of Silwan, a predominately Palestinian area in the shadow of the Old City's southern walls that has become a flashpoint in broader Israeli-Palestinian tensions.
---