Amanda Knox sings the Beatles, attracts Hollywood's eye, preps for appeal
Amanda Knox, the American student convicted of murdering her roommate in Italy, is set to appeal her conviction. Meanwhile, Amanda Knox performed in a prison concert and is the subject of two movies.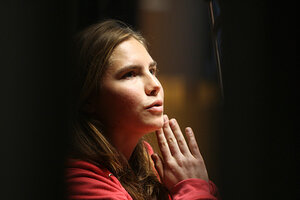 Alessandra Tarantino/AP/File
The real-life soap opera that has swirled around American college student Amanda Knox since she was convicted of murdering her British roommate is set to become even more of a media circus, with two movies to be made about the controversial case.
Details of the projects emerged as Ms. Knox and her lawyers prepare to appeal the 26-year sentence, which was handed down last December in Perugia, Umbria, where the 2007 murder took place.
The appeal will start Nov. 24 in Perugia, with the former University of Washington student's courtroom appearance likely to draw dozens of American, British, and Italian journalists and TV crews back to the ancient walled city.
The case, in which Knox, her then Italian boyfriend, and a local drifter were found guilty of stabbing to death a 21-year-old British woman, Meredith Kercher, in what prosecutors called a violent sex game, continues to attract huge interest in Italy.
The case appeared to split public opinion here, with half the country believing that Knox was a promiscuous, cold-hearted killer and the other half seeing her as an innocent abroad who was convicted despite no obvious motive.
But ongoing fascination in the story comes down to her fresh-faced good looks and the fact that, even after the 11-month trial, the highly contested circumstances of the crime make it a genuine murder mystery.
---