Ecuador coup attempt shows fragility of Latin American democracy
The standoff between Ecuador President Rafael Correa and police ended Thursday night but the alleged Ecuador coup attempt underscores the region's instability.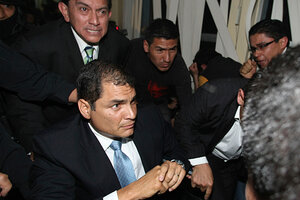 Dolores Ochoa/AP
President Rafael Correa of Ecuador was rescued from the hospital where he was trapped Thursday for 12 hours, but the political implications of the attempt to isolate the democratically elected leader will resonate for some time to come.
The end of the standoff may not put an end to fears that democracy is threatened across the region, a year after the president of Honduras was ousted from his post and sent into exile.
Ecuador was plunged into political turmoil Thursday after police, angered by austerity measures passed Wednesday that would affect their bonuses, took over barracks across the country and closed down highways and the international airport. The government declared a state of emergency.
President Correa, who was roughed up and injured by tear gas when he attempted to seek dialogue with disgruntled officers Thursday, was trapped in a hospital as angry protesters surrounded the building.
Army troops wearing gas masks stormed the facility late Thursday amid gunfire – at least two policemen and a soldier were reportedly killed in clashes – and eventually returned Correa to the presidential palace in Quito.
"What loyalty, what support," Correa said to supporters who had gathered outside his headquarters. "This will serve as an example for those who want to stop the revolution not through the ballot box but with weapons."
Laura Carlsen, the director of the Americas Program in Mexico City for the Center for International Policy, urged the United States to vigorously oppose the actions in Ecuador to prevent repeat attempts to undermine elected leaders.
---