Geert Wilders hate speech trial to resume in Netherlands
The trial of far-right politician Geert Wilders, charged with inciting hatred against Muslims, will continue Wednesday in the Netherlands. His lawyer caused a delay, saying the judge was biased.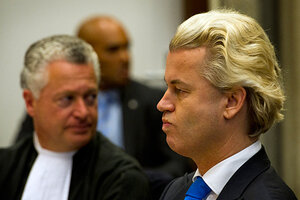 Marcel Antonisse/AP
A special panel of judges rejected Tuesday claims of judicial bias raised by Dutch far-right politician Geert Wilders, who is facing charges of inciting hatred against Muslims.
Mr. Wilders's trial is now set to resume Wednesday morning led by the same presiding judge, whose impartiality was questioned by the vocally anti-Islam lawmaker when the trial opened Monday morning.
"There is no substantial evidence to show that the judges have given the impression of being biased, therefore the request is being denied," said Frans Bauduin, one of the review judges.
During Monday's proceedings, Judge Jan Moors said Wilders had made a name for his bold statements. "It appears you are doing that again," Judge Moors said, prompting protests from Wilders's lawyer, Bram Moszkowicz.
Criticizing the Quran
Wilders was charged after he compared Islam's holy book, the Quran, to Hitler's Mein Kampf. The Quran was a "fascist" book, Wilders wrote in newspaper editorial in 2007.
"He is trying to turn the court into a podium for his political activities," says Rudy Andeweg, a professor of Dutch politics at Leiden University. "He enjoys the attention. He wants a political trial but judges won't have that."
---
Follow Stories Like This
Get the Monitor stories you care about delivered to your inbox.