Hamas-Fatah divide turns the lights out on Gazans
Deep distrust between Hamas and Fatah, which are due for another round of reconciliation talks next week, has led to a dispute over who should pay the electricity bill.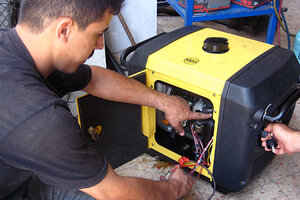 Liam Stack/MCT/Newscom
Renewed Israeli-Palestinian peace talks are on the rocks, and failure to secure a deal with the two sides could prolong the region's peace blackout.
But for Gaza residents, a deep Palestinian divide – between Hamas and Fatah – not only prevents peace, but literally leaves them in the dark.
The streets here hum with hundreds of diesel-powered generators, the only line of defense against a war-damaged electric grid that plunges the territory into 8-hour-long rolling blackouts each day.
The lack of electricity is largely due to a protracted disagreement between Gaza's Hamas government and the Fatah-dominated Palestinian Authority (PA) in the West Bank over who will pay the territory's electricity bill, estimated at more than 80 million shekels ($21 million) each month.
Both Hamas and Fatah accuse each other of corruption and of mishandling tax revenue and international aid, all to the detriment of Gaza's 1.5 million residents.
"All the circumstances we live in are very hard," says Ali Hisham, an unemployed resident walking past a long line of generators in Gaza City. "We hear a lot of information saying it is the Gaza side and a lot saying it is Ramallah, but I don't know who to blame."
How Gaza gets power – and who pays for it
---