Postelection violence in Burma (Myanmar) shows fragility of cease-fires
More than 10,000 refugees have fled Burma (Myanmar) amid violence that came one day after rare elections in the military-ruled country.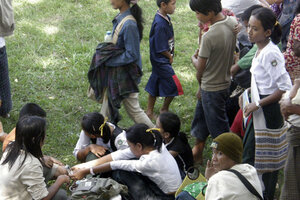 AP Photo
Fierce fighting has erupted in eastern Burma (Myanmar) after rebels launched an assault on a government-held border town, forcing thousands of refugees to flee into Thailand. Clashes were also reported at another border crossing further south. The violence, which came one day after rare elections held in the military-ruled country, underscores the fragility of cease-fires with armed groups in Burma's war-torn borderlands.
Thailand said it had offered temporary sanctuary to more than 10,000 refugees fleeing the fighting in Myawaddy, the Burmese border town. The official border crossing has been closed since July during preparations for the election, but Burmese often cross illegally back and forth between the two sides. Mae Sot, the Thai border town, is a hotbed for exiled Burmese activists and ethnic minorities.
Monday's clashes involved a renegade faction of the Democratic Karen Buddhist Army (DKBA), an ethnic-based militia. Initial reports suggested that the rebels had captured Myawaddy, an important trading hub, but Thai sources said they had been repelled. Burmese media reported that the town was under emergency rule.
---