North Korea tests limits of South Korea, Japan cooperation
US envoy Stephen Bosworth arrives in Tokyo Thursday after visiting Seoul and Beijing. Implicit in his talks is a push for Japan and South Korea to cooperate for mutual defense against North Korea.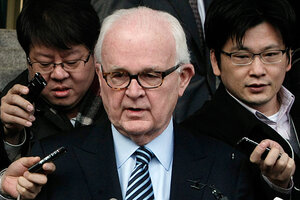 Ahn Young-joon/AP
US envoy Stephen Bosworth is carrying a message to Asian capitals this week that looks far beyond the obvious desire to get North Korea to give up its nuclear weapons.
Implicit in his talks in Seoul, Beijing, and Tokyo is a push for Japan and South Korea to get over the legacy of 35 years of Japanese colonial rule and decades of animosity and suspicion – and cooperate for mutual defense against the North Korea threat and concerns about China as the rising regional power.
Japanese and Korean officials deny any consideration of an alliance, citing it as politically impossible. But Mr. Bosworth, who arrives in Tokyo from Beijing and Seoul on Thursday, faces mounting questions about cooperation engineered by the United States. Washington has longstanding but separate alliances with both countries, although US officials for years have stressed the need for "trilateral cooperation" that conjures the image of a three-sided alliance in case of hostilities.
Bosworth has been saying that North Korea to go beyond its stated desire to return to six-party talks and begin to live up to agreements reached in 2007 to forgo its nuclear weapons program in return for massive aid for its dilapidated economy. As a South Korean official put it Wednesday after Bosworth's meetings in Seoul, "The South and the US shared an understanding that future six-party talks should not be talks for talks' sake" – a view that Bosworth has frequently expressed.
---