After nuclear talks fail, Iran rails at 'enemies' – and leaves door open for new round
Iran responded to the failure of nuclear talks last weekend with dual-track rhetoric, saying that 'there is hope' but accusing the West of 'blocking progress.'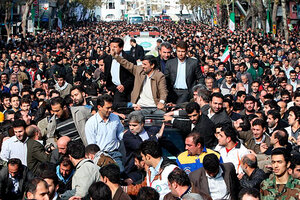 President.ir/Reuters
Iran is reacting to the collapse of nuclear talks in Istanbul with the rhetorical equivalent of Washington's own dual-track policy on Iran: diplomacy and pressure.
On the diplomatic side, President Mahmoud Ahmadinejad has called for a resumption of talks, telling a crowd of thousands in northern Iran on Sunday that "there is hope that in the next sessions, good results would be achieved" if the six world powers were "committed to law, justice, and respect."
Brushing aside the fact that two days of talks in Istanbul failed to get out of the starting blocks – stalled over two Iranian preconditions, and with no plans for future sessions – Mr. Ahmadinejad said that "in the upcoming meetings there will be good agreements made, provided the two parties remain committed to the spirit of the talks."
And on the pressure side, that spirit might be tested by some of Ahmadinejad's other language. To the crowds, he accused "uncultured Zionists [Israelis] and some people in America" for blocking progress and making sure "the [Iran] issues remain unresolved."
Speaking later to veterans and martyrs' families, Ahmadinejad railed against familiar "enemies": the US and Western nations – the most powerful of them represented at the nuclear talks – and Israel.
---