Iran nuclear talks: What happened to the nuclear fuel-swap deal?
Movement on a fuel-swap deal with Iran stalled after two days of nuclear talks in Istanbul ended in stalemate.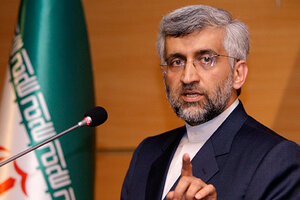 Ibrahim Usta/AP
One issue was expected to be a centerpiece of Iran's nuclear talks with world powers in Istanbul last weekend: a fuel-swap deal billed as a critical "confidence-building" measure.
But the two days of talks ended in stalemate. Negotiators from the so-called P5+1 nations – US, Russia, China, Britain, France, and Germany – could not move beyond Iranian preconditions that the group recognize Iran's "right" to enrich uranium and agree to drop sanctions before substantive talks could begin.
So what happened to the nuclear fuel-swap deal?
And how did the P5+1 revise the deal first put to Iran – and rejected by it – in October 2009? In that proposal, Iran would have exported the bulk of its homemade low-enriched uranium (LEU) for further refinement in Russia, then made into fuel rods in France, for a small research reactor in Tehran.
The short answer is that the deal was barely discussed. But the "upgraded" version of the deal, which was laid out for the Iranians at the Istanbul talks, requires that Iran export a "greatly increased quantity," according to Western diplomats engaged in the talks.
The long answer depends on whom you ask.
---