Springtime in Bulgaria – time to parade in animal skins
Ancient festival of 'Kukeri,' which dates back to Thracian times, involves parades, music, elaborate masks and costumes, and belts of heavy antique bells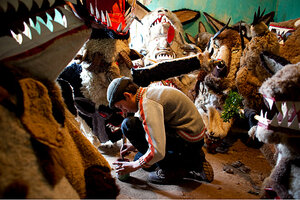 Jodi Hilton
Beginning with the winter solstice and continuing until the spring equinox, villagers in rural Bulgaria dress in animal skins, horned masks, and belts of heavy antique bells and march through the streets, accompanied by folk dancers and musicians.
These masquerade rites, usually called either Kukeri or Survakari, date back to the ancient Thracians, tribes who occupied that area and formed their own kingdom there in the last centuries BC. Cleansing rituals aimed at ushering in a prosperous year, they were once performed throughout southeastern Europe. Today, Bulgaria offers the best preserved remnants of the tradition, which is also exhibited in pockets from Spain to Eastern Greece.
"Capitalism came later to Bulgaria," explains Simeon Milyov, former curator of the Pernik (Bulgaria) Museum of History, and the formation of the collective – under Communist rule – helped preserve agrarian traditions.
Even today, though a majority of young people have moved to the cities, they return annually to their ancestral villages to dress as Survakari, Mr. Milyov says.
It's a rite of passage for young men to wear the Kuker costume, which normally weighs about 110 pounds "or 70 kilos [150 pounds] if it rains," says Slavcho Yankov, who made the costume that his 16-year-old son, Martin, wore for the first time this year. "When I was his age, I was a Kuker," says Mr. Yankov. "You pass this on from generation to generation."
---
Follow Stories Like This
Get the Monitor stories you care about delivered to your inbox.