Benghazi, Libya's rebel capital, braces for a fight
Libya's rebels are begging for international help as Qaddafi's forces tighten their siege of Ajdabiya, the last major city on the road to Benghazi.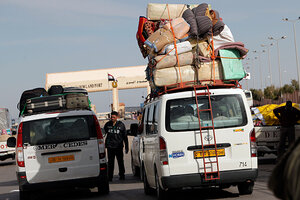 Nasser Nasser/AP
Muammar Qaddafi's regime sought to portray an aura of inevitability about its march into Libya's rebellious east today as his forces tightened their siege of Ajdabiya and raised fears of an assault on the de facto rebel capital of Benghazi.
The struggle at Ajdabiya – a city of about 100,000 located 90 miles from Benghazi – is finely poised at the moment, and good information from inside the city is hard to come by. But if Qaddafi is willing to use the kind of artillery barrages he has used on western towns that rose up against him or tries to starve the city, he could well prevail.
His next step would probably be to try such tactics on a much grander scale here in Benghazi, where a psychological war is already under way. On state TV, Qaddafi is referring to the city's rebels as Al Qaeda terrorists, rats, and worse. Phone calls from his loyalists in Tripoli tell residents their families will be killed.
Indeed, the stakes are high in the stand-off between the Arab world's longest-serving dictator and the rag-tag militias that have been pleading for a no-fly zone – a move the United Nations Security Council is deliberating today and could implement within a few hours if approved, according to a French diplomatic source.
---