Surging BRIC middle classes are eclipsing global poverty
By 2022, those living in poverty will be a minority for the first time, as the global middle class – particularly from BRIC (Brazil, Russia, India, China) nations – surges. Does new affluence signal shifting global power?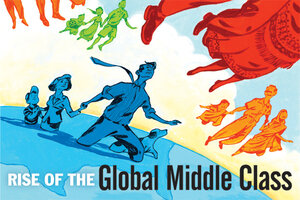 Illustration by Tim Bower
Touting tigers, the Taj Mahal, and the towering Himalayas, India opened the 21st century with its "Incredible India" campaign to attract tourists from around the world. But the unexpected happened. A surprising new face showed up on the Indian tourism scene to fill hotel rooms and tour bus seats: Indians themselves.
They were people like Ash Narian Roy, who grew up in a rural hut but today has a PhD and works in Delhi. They are the new Indian middle class, who have begun exploring new horizons of education, culture, and leisure.
"Ten years ago," muses Dr. Roy, whose increasing ability to travel parallels the past decade's explosive growth of the middle class, "we may have gone near Shimla in our own car." But now he hires a driver to take his family into the heart of that cool summer resort in the Himalayas. And he even jets off to the beaches of Goa in the south.
The curious and free-spending domestic traveler like Roy, says Amitabh Kant, an Indian development official who wrote the book "Branding India: An Incredible Story," is an "economic savior" for India. And, to boot, Mr. Kant says, middle-class Indians are a powerful market abroad, now outspending Americans in London, for example, by 10 percent.
---