Netanyahu brings starkly different vision to Obama's White House
While President Obama has voiced support for pro-democracy uprisings across the Middle East, the instability has made Israel's Netanyahu wary of making concessions for peace.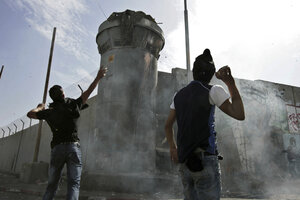 Majdi Mohammed/AP
Prime Minister Benjamin Netanyahu opened a US visit today at the White House, bringing with him a fundamentally different vision of the Middle East than the one presented by President Barack Obama in a major policy speech yesterday.
As Mr. Obama encourages democratic reforms across the Arab world, he meets the leader of a nation deeply wary about the regional instability wrought by six months of Arab uprisings. Israeli officials emphasize that the rising influence of political Islam and efforts by Iran to expand its footprint in the region make concessions for peace riskier than ever.
"If we warned before, our concerns have been reinforced,'' says Zalman Shoval, a Netanyahu aide. "While we hope that this will lead to democratization, there's no guarantee…. Nobody really knows the answers.''
At stake for Israel is the threat of increasing isolation as a result of an upcoming United Nations vote in support of a Palestinian state, which could circumvent the US-led peace process between Israelis and Palestinians.
Israel also fears rising attacks on its legitimacy which could bolster boycott movements and potentially turn it into a pariah. It could inspire more mass protests from emboldened Arab neighbors, as seen in the May 15 Nakba demonstrations that drew tens of thousands of Palestinian refugees and their supporters to protest the "catastrophe" of Jewish independence 63 years ago.
---