In Poland, Obama looks to improve relations with key military ally
President Obama arrived in Poland Friday for the final leg of his European tour on a visit that will focus on military ties between Washington and Warsaw.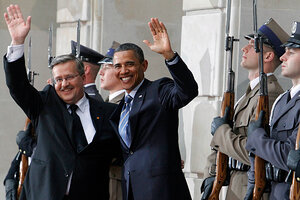 Czarek Sokolowski/AP
President Obama landed in Poland Friday on the last stop of his four-nation European tour for talks that are expected to focus on improving bilateral relations and the American military presence in Poland.
Mr. Obama may announce rotating F-16 fighter jets from the US airbase in Aviano, Italy, to a base in Lask, central Poland, a largely symbolic gesture in to boost relations with Poland, a key US ally in Europe.
Obama has worked to improve relations between Warsaw and Washington, which took a hit with his announcement in 2009 that he was scrapping Bush-era missile shield plans, including 10 interceptor missiles in Poland and a tracking radar in the Czech Republic. The project had much support among local elites, but not among the public.
Eastern European leaders, including regional heavyweights Lech Walesa, the former Polish president, and Vaclav Havel, former Czech president, accused Washington of caving to Moscow, which long argued the system would blunt its own nuclear deterrent.
---