Gulf of California: Authorities losing hope for seven Americans lost at sea
The search continues for seven Americans lost at sea after their boat capsized in the Gulf of California. One American was confirmed dead in the accident, while 16 crew members and 19 tourists were rescued.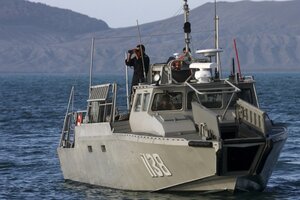 Jorge Duenes/Reuters
The search for the seven missing Americans who were on a fishing boat that capsized in the Gulf of California on Sunday continues. But some authorities are losing hope of rescuing the men alive.
Mexican Navy Capt. Benjamin Pineda Gomez said that with the warm weather and water temperature in the Gulf of California, it's still possible that the missing tourists are alive, reports the Associated Press.
Yet local rescue officials said they had given up hope of finding the missing Americans, according to Reuters. According to the report, divers had also been brought in to aid in the search.
"We have changed the operations, now we're focusing on recovering ... people, but not alive," said Alfredo Escobedo Ortiz, the director of emergency services in Mexico's Baja California state.
Mexican Navy, Army, and state officials met late Monday to discuss the search and announced it would continue over an extended area, according to the Associated Press.
On Tuesday morning, the Mexican Navy continued searching the Gulf of California by plane, helicopter, boat, and from vehicles on the shore, reports the Los Angeles Times. The U.S. Coast Guard also assisted with a C-130 aircraft out of Sacramento.
---