European markets tumble as investors fear Italian default
Investors in Europe have set their sights on Italy, speculating that if a Greek bailout isn't approved and Athens defaults on its government debt, Italy is next.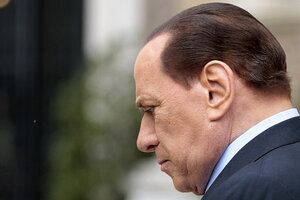 Gregorio Borgia/AP/File
European stocks fell sharply Tuesday amid larger worries about European resolve on a Greek bailout and speculation that Italy is edging toward default.
Italy's cost of borrowing has soared this week and yields on the government's benchmark 10-year bonds rose to a euro-era record earlier today. Markets in London, Paris, Madrid, and Milan fell sharply in morning trading.
Italian Finance Minister Giulio Tremonti today chairs an emergency session to cut $56 billion from the budget, an austerity measure designed to reassure markets.
The session follows separate meetings on Italy and Greece in Brussels yesterday by the highest-ranking EU officials responsible for government and banking.
Analysts say it is not the Greek crisis per se, but the lack of an agreed EU rescue and concomitant political resolve, that troubles markets and is focusing attention on Italy's position.
Jacques Cailloux, chief European economist for the Royal Bank of Scotland, said Monday that the Italian crisis represents "a new phase" in the financial crisis of Europe, and warned against a "domino effect."
---