An enduring, and emotional, allure
Gold is attractive to wear and look at, but even more attractive to own as a commodity these days.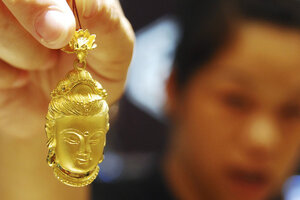 China Daily/Reuters
Why all the fuss about gold?
That might sum up your attitude about the soft metal if your encounters with it are pretty much limited to your wedding band, the high-end HDMI cable that meant splurging at Best Buy, and late-night reruns of "The Treasure of the Sierra Madre."
It's hard to relate to those gold-obsessed figures from fiction and life, from the pharaohs to the marauding Cortez, the buccaneers to the forty-niners, rap stars to Scrooge McDuck.
And it's not so easy to understand so-called "gold bugs." For that crowd – clamoring again today amid ominous news about governments nearing default – it has that comforting weight. Pulled from the earth, and with inherent worth, gold becomes a stalwart alternative to "fiat currency," promissory paper that might end up worthless. Nobody wants to end up having to use a wheelbarrow as a wallet.
Gold bugs come in different shades. Their motivations vary. To strident proponents of a return to a gold standard for the Treasury, gold represents a hedge against inflation. To survivalist types who stash gold bars behind basement walls, it's a hedge against chaos in the streets. That makes gold's value a kind of "anxiety index," as Jessica Bruder explains in her globe-girdling explanatory piece, which begins on page 26.
If you're holding some of the stuff, then good for you. Maybe keep your voice down. Gold really glitters right now: It passed $1,500 an ounce for the first time in April, and runs slightly above that at this writing – five times its value at the start of the decade.
---