Haiti's 'tent cities' brace for Tropical Storm Emily
As Tropical Storm Emily heads for Haiti, aid groups scramble to prepare relief efforts for the more than 600,000 people still in makeshift housing after the devastating January 2010 earthquake.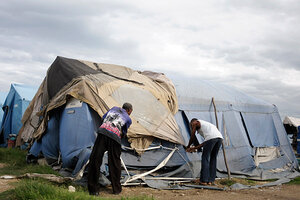 Swoan Parker/Reuters
Haiti braced for potentially deadly rains and flooding from a tropical storm churning toward the Caribbean country where more than 600,000 earthquake survivors are still living in makeshift camps dubbed "tent cities."
As Tropical Storm Emily moved toward the island of Hispaniola Thursday, the Miami-based National Hurricane Center issued a warning for Haiti, parts of the Dominican Republic, the Bahamas, and Cuba.
The storm's center was forecast to pass over Haiti's southwestern peninsula Thursday afternoon, dropping as much as 20 inches of rain in isolated areas. The rains "could cause life-threatening flash floods and mudslides," the center said Thursday morning.
Haiti's civil protection agency told the Associated Press that rains from the storm already damaged several hundred homes and a cholera treatment center in the Central Plateau region, inland from the capital, Port-au-Prince.
Aid groups raced to help camp residents prepare by reinforcing their rickety tents and shacks, filling sandbags, and by digging draining ditches.
Although forecasters said Emily should weaken once in makes landfall, aid groups worried about flooding in the country's deforested, mountainous terrain.
---