Germany hits new green-power milestone
Green energy sources now account for 20 percent of Germany's electricity production – a new high. Germany aims to be 35 percent green by 2020, and to have phased out nuclear power by 2022.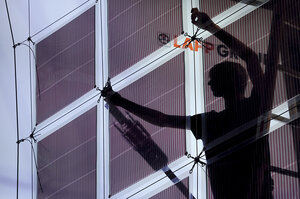 Christof Stache/AFP/Newscom
It doesn't have Norway's waterfalls or Spain's sun-drenched plains. Nonetheless, Germany is inching its way up the list of renewable-energy producers: In the first six months of 2011, green energy for the first time accounted for more than 20 percent of the country's electricity production.
Given that hydroelectricity contributes only a small part, 3.3 percent, of Germany's power grid, the share of the "new" renewable energy sources – solar, wind, and biomass – has grown significantly.
"The renewables are showing their true potential," says Anike Peters, energy expert with Greenpeace Germany. "And that is in spite of numerous attempts to obstruct their progress."
The new figures, published in late August by the German Association of Energy Providers, show the share of renewable electricity sources rising by more than 2 percent in a year – a year in which the German government made not one but two U-turns on nuclear energy policy.
The government's double reversal "was a nightmare for anyone involved in planning the future of Germany's power supply," Ms. Peters says.
---