Cracks emerge among Libya's rebels, from front lines to Tripoli
NTC chairman Mahmoud Jalil called on Libya's rebels to overcome the friction, tribalism, and political squabbling that has marred rebel leadership at a critical time of transition.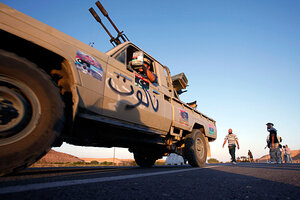 Youssef Boudlal/Reuters
From Libya's still-active front lines to the halls of power in Tripoli, divisions are emerging among revolutionaries and their leaders even before "liberation" has been officially declared.
Muammar Qaddafi may be in hiding, his loyalists clinging to just three primary outposts – Bani Walid, Mr. Qaddafi's hometown of Sirte, and Sabha in the south. But as Libya's new rulers try to consolidate control and bring governance to the disparate forces that ended 42 years of dictatorship, political struggles are already under way.
Those close to the Tripoli military commander Abdelhakim Belhadj are rejecting the bid by the US-educated interim Premier Mahmoud Jibril to put all anti-Qaddafi forces under the control of the National Transitional Council (NTC).
That friction reflects broader divisions between the NTC – which has ruled rebel-held eastern Libya from Benghazi during the six-month rebellion – and power centers in Tripoli and western Libya, which are underrepresented.
On the street, fighters often dismiss talk of divisions, still basking in the post-Qaddafi air of celebration. To illustrate unity on Monday night, one officer from Benghazi, who stood guard on a Tripoli thoroughfare, handed his assault rifle to a bystander from Tripoli.
---