Egypt's 'Facebook Girl' eagerly awaits possible Nobel Peace Prize
If Egyptian organizer Esraa Abdel Fattah wins the Nobel Peace Prize tomorrow, it could reinvigorate Egypt's flagging activists. But some say it could overstate social media's role in Egypt's revolution.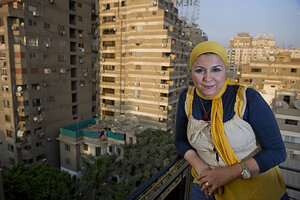 Ann Hermes/Staff
Esraa Abdel Fattah was once known as Facebook Girl. In 2008, the young activist helped organize a Facebook page calling for a national strike that some see as one of the seeds of Egypt's revolution. When she was arrested and held for 18 days because of her role, she became a symbol of resistance to the regime of former President Hosni Mubarak.
So it was only fitting that it was on Facebook that she saw the news last week that she had been nominated for a Nobel Peace Prize, along with April 6 Youth, an organization that grew out of the 2008 strike, for the roles they played in the mass mobilization of Egyptians that led to the revolution.
Her first action after digesting the Facebook message was to call her mother, who didn't believe her. "She said 'No no, you are lying, you are kidding,' " says Ms. Abdel Fattah, who is eagerly awaiting tomorrow's announcement. If she is crowned this year's Nobel peace laureate, she says, it would mean bringing home one of the world's most prestigious awards not just for herself, but on behalf of all the Egyptians who rose up and toppled their dictator.
"I feel that it is for Egypt," she says. "If I win this, if any Egyptian wins this prize, it will be for Egypt's revolution. It's for the Egyptians in the street."
---