US, British forces rescue Italian ship from Somali pirates
The Italian crew steered the hijacked ship toward awaiting NATO forces in the Indian Ocean. Eleven Somali pirates were captured.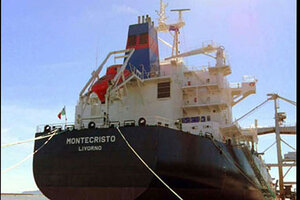 AP Photo/LaPresse/File
American and British naval forces: 1. Somali pirates: 0.
US and British forces stormed aboard a hijacked Italian cargo ship in the Indian Ocean Tuesday, freeing the 23-man crew and capturing all 11 Somali pirates, Italian officials said. The rescue comes as Italy is moving to create a new branch of special naval troops to be stationed aboard merchant ships to fight off Somali pirates.
The Italian foreign ministry issued a statement welcoming the release which it said was carried out by forces from two naval vessels, one from the United States and one from Britain. The Italian news agency Ansa said they were special forces.
The foreign ministry said the crew of the 55,675 bulk carrier Montecristo had taken refugee inside an armored shelter on the ship when it was hijacked on Monday and had continued to control its movements, bringing it closer to an area where anti-piracy forces were patrolling.
The move into an armored shelter appeared part of new measures agreed by seafaring nations to combat Somali piracy, which costs the world economy billions of dollars each year. The ship's owners said the crew, from Italy, India and Ukraine had trained in anti-piracy drills.
Somali pirates, operating on small inflatables, normally use rocket-propelled grenades and assault rifles, with no heavier armaments that would penetrate armor plating.
---