International relations curriculum is not 'chalk and blackboard' anymore
Academics are still unsure how much technology and social media should be integrated into the international relations curriculum, but it's already transforming the classroom.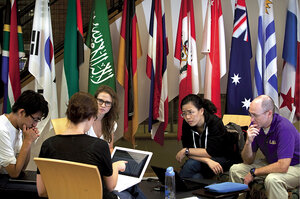 Melanie Stetson Freeman/Staff
Every couple of years, The Col­lege of William & Mary does an exhaustive survey of the field of international relations, polling on current events, teaching, and research.
But this year, the people behind the survey, the Institute for the Theory and Practice of International Relations, set out for the first time to assess a key change in the teaching of international relations: the growing presence of social media, Wikipedia, YouTube, and videoconferencing.
To Dan Drezner and Charli Carpenter, professors who co-wrote a paper in 2010 examining the way user-driven technology is changing the field, the ability to do everything from video-chat with students in other countries to post research online and have large numbers of readers critique it immediately is significantly broadening students' experience in school – even as it poses tough, new challenges.
"It's not chalk and blackboard anymore," says Dr. Drezner, a professor of international relations at Tufts University's Fletcher School of Law and Diplomacy.
Drezner says he enjoys pulling up a YouTube clip to illustrate a point in class and discussing blogs. But, he says, integrating technology and social media into the classroom comes with challenges: How can professors train students to think critically about the vast amount of information on the Internet? How can they prevent all this technology from distracting students?
---