The Monitor's weekly news quiz for Oct. 24-28, 2011
How well do stay up with the news – from the mainstream to the semiridiculous? Take our news quiz and find out!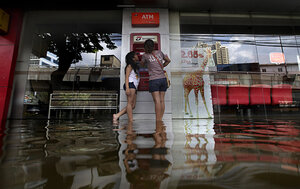 Question 1 of 10
1.

Bangkok's worst flooding in 50 years has affected transportation in an unexpected way. What happened?
Lightweight, watertight cars have become navigation hazards on rivers

Desperate car-owners are parking their vehicles on any high ground they can find, snarling traffic

Pedestrians are training themselves to use stilts made of bamboo to navigate flooded sidewalks

Airports are crowded with citizens flying to Phnom Penh to escape the floods