Kabul suicide bombing kills 12 Americans, one Canadian
Twelve Americans, one Canadian, and four Afghans were killed in the Kabul suicide attack Saturday.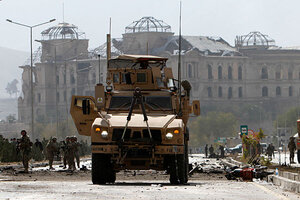 (AP Photo/Ahmad Jamshid)
UPDATED Saturday 5:45 p.m. EST: At least 12 Americans and one Canadian - five soldiers, and eight civilian contractors - died in a suicide bombing Saturday in Kabul.
"Five International Security Assistance Force (ISAF) service members and eight ISAF civilian employees died following a suicide vehicle-born improvised explosive device attack in Kabul earlier today," ISAF said in a statement. Reuters reports that a Canadian military spokesman said one of the dead was a Canadian soldier.
The suicide attack Saturday is one of the deadliest days for US forces in the history of the 10-year war.
A car bomb targeted a NATO convoy moving on a large road in the southwest area of Kabul, near the Afghan parliament building. In addition to the confirmed ISAF deaths, three Afghan civilians, and an Afghan policeman are also reported to be fatalities of the attack.
That so many foreign forces were killed in the capital city, regarded as one of the most secure areas of the country, will prove a serious point of concern for security officials and Afghans alike. A recent wave of attacks and assassinations here has deepened concerns that security in Kabul is steadily deteriorating.

"For a long time, we haven't had such attacks in Kabul, especially on foreign forces," says Abdul Ghafoor Liwal, director of Regional Studies Center of Afghanistan. "Insurgents want to show that they can still manage such attacks on foreign troops. … I think they will be able to repeat such attacks on foreigners, and on the Afghan government and forces as well."
---