Leadership: A constructive rebel bucks hierarchy
One leadership style leads a constructive rebel to break rules in diplomacy.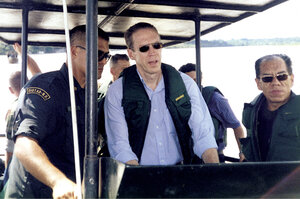 Courtesy of Dennis Jett
The highlights reel of Dennis Jett's foreign-service career would screen like an action film – saving journalists from warlords, calling out power-hungry foreign leaders, pushing peace between rebels and governments, even helping rescue hostages. Such drama is not usually the stuff of diplomacy, but Mr. Jett wasn't your usual diplomat.
During a 28-year career with the State Department, he walked the fine line between emissary and maverick. Jett eschews the latter word – John McCain's failed presidential bid made the term too narrow, he thinks – but not necessarily the sentiment. "I was trying to say what I thought needed to be said, even though it made some in the State Department uncomfortable," says Jett, now a professor of international affairs at Pennsylvania State University in State College.
Uncomfortable as some may have been, others also recognized Jett was right. Jett is a recipient of the Christian A. Herter Award, given annually to a high-level US State Department employee for an accomplishment rather unorthodox in an institution rooted in obedience and hierarchy: effective dissent.
"It's one of our most significant awards ... because it's given to a senior foreign-service officer [who] basically opposes policy in a constructive manner," says Perri Green, who coordinates the award for the American Foreign Service Association. That person, she says, "has an amazing impact on the policy."
---