How an obscure rule could trample EU dissenters
The EU might invoke an 'overpass' clause to head off individual nations' objections to more centralized budgetary powers.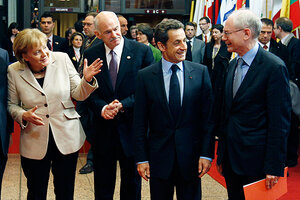 Yves Herman/Reuters/File
Plans for amendments to the treaty governing the European Union will be discussed at a summit in Brussels tomorrow, but trouble lies ahead: British Prime Minister David Cameron is threatening a veto, and Ireland's Constitution could trigger a referendum – unless the EU invokes an obscure clause in its Constitution.
First proposed Monday by German Chancellor Angela Merkel and French President Nicolas Sarkozy, the amendments to the Lisbon Treaty would centralize national budgetary powers in EU institutions.
The move highlights a growing point of tension in the EU: the question of national politics overriding EU interests, and vice versa. Opposition could upend momentum toward greater unity, as Ireland showed was possible when it initially vetoed the Lisbon Treaty in 2008.
But a leak from the European Council says the EU plans to circumvent national parliaments to ensure passage of the effort.
A document from the office of European Council President Herman van Rompuy, seen by The Christian Science Monitor last night, detailed a number of potential changes, along with methods for obtaining them. The European Council is composed of the 27 heads of government in the EU.
Such moves toward fiscal union would require major changes to national constitutions. In the case of Ireland, a difficult-to-pass referendum would be required.
---