State of the world: Is war on the wane?
Part 2 of the surprisingly upbeat state of the world: Long-term statistics show war is on the wane.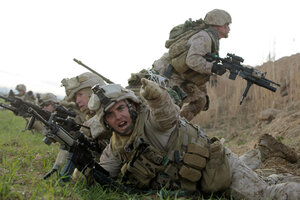 Goran Tomasevic/Reuters/File
Car bombs in Afghanistan, firefights in Libya, skirmishes in Sudan – look at today's international news, and it's just the same-old same-old, isn't it? Mankind has been at war since the dawn of anger. Won't war always be with us?
Maybe not – or maybe not as much, at least. War is on the downswing, argue some scholars. Its frequency has lessened considerably since the cataclysm of World War II.
"There really aren't very many wars anymore," says John Mueller of Ohio State University in Columbus.
Consider this number: zero. That's how many international wars were fought between developed countries in the years since 1945, says Professor Mueller. (Some argue that the Soviet invasion of Hungary in 1956 would count as such a conflict. That would bring the total to one.)
This is notable because, in centuries past, great powers thought of war as an acceptable means of settling differences. Think of all the Franco-Prussian-Austrian-British conflicts of the 16th and 17th centuries. The casualties of the World Wars put an end to that. So far.
"Shattering centuries of bloody practice, these countries have substantially abandoned war as a method for dealing with their disagreements," wrote Mueller in Political Science Quarterly in 2009.
---