State of the world: Mideast boosts global democratic progress
Part 3 of the surprisingly upbeat state of the world: Mideast change boosts striking global democratic progress.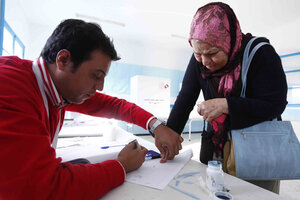 Anis Mili/Reuters
People's revolts in Tunisia, Egypt, Libya, Syria, and other nations of the Middle East and North Africa were among the most inspiring events of 2011. They've toppled, or threatened, tyrants that seemed untouchable for decades. At a stroke, they've remade the history of a politically oppressed region.
"The positive development is that there is a significant political change in the Middle East, which we haven't seen in decades," says Freedom House vice president Daniel Calingaert.
But will the Arab awakening revolts lead to a spread of democracy throughout an arc of former autocracies? That's far from clear. In most of the nations involved, basic institutions – courts, law enforcement, and regulatory agencies – have been corrupted by years of strongman rule. Rebuilding governments and civil society will take years.
"In this sense the removal of a dictator represents only the beginning of the end of authoritarian governance," conclude analysts Christopher Walker and Vanessa Tucker in the Freedom House report "Countries at the Crossroads 2011."
Already some nations are making more progress than others.
Tunisia, for example, is doing relatively well. A popular uprising that began after the self-immolation of a despairing street vendor ousted President Zine el-Abidine Ben Ali last Jan. 14. In October the interim government proceeded with a vote for a constituent assembly that international observers pronounced generally free and fair.
---