Taiwan election sees China-friendly presidency continue
Taiwan election: President Ma Ying-jeou won re-election in the tight race. Ma is expected to continue his China-friendly policies that have Beijing and Washington smiling, but some in Taiwan getting increasingly concerned about Taiwan's de facto independence.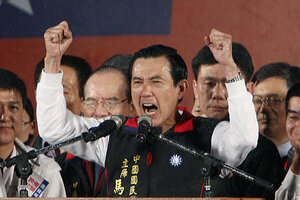 Wally Santana/AP
Taiwan's president won re-election Saturday, paving the way for a continuation of the China-friendly policies that have delighted Beijing and Washington, and caused consternation among some in Taiwan worried about the durability of their de facto independence.
With about 99 percent of the vote counted, the official Central Election Commission said President Ma Ying-jeou had garnered 51.6 percent of the total against 45.6 percent for Tsai Ing-wen of the main opposition Democratic Progressive Party. A third candidate, James Soong, once a heavyweight with Ma's Nationalist Party, had 2.8 percent.
Ma's Nationalist Party also retained control of the 113-seat legislature, though with a reduced majority.
Speaking before thousands of jubilant supporters in downtown Taipei, Ma said his China policies had resonated with voters.
"They gave us support for our policy to put aside differences with the mainland. To search for peace and turn it into business opportunities," he said.
Since taking office in May 2008, Ma has tied Taiwan ever closer to China, which for the last 60 years has represented a military threat, a political rival and, most recently, a key commercial partner.
---